Driving Operations Courses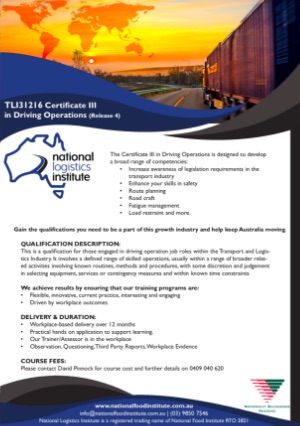 Certificate III in Driving Operations
TLI31216 Certificate III in Driving Operations a qualification for those engaged in driving operation job roles within the Transport and Logistics Industry.

It involves a defined range of skilled operations, usually within a range of broader related activities involving known routines, methods and procedures, with some discretion and judgement in selecting equipment, services or contingency measures and within known time constraints.

Job roles and titles vary across different sectors. Possible job titles relevant to this qualification include:

Agitator Driver
Bus Driver
Line Haul Driver
Local Heavy General Freight Driver
Pilot Vehicle Driver
Tip Truck Driver.

Dependant on where you live, training may be subsidised and this is acknowledged below:
Victoria – this training is delivered with Victorian and Commonwealth Government Funding.
NSW – this training is subsidised by the NSW Government.
Please complete an 'Enquire now' request in our Contact section as to the support available in other states.

There are no set prerequisites for this course.

All students wishing to enrol in this course are required to demonstrate an interest in, knowledge of, and suitability for work in the industry, undertake a pre-training review and study skills assessment to determine language, literacy and numeracy levels to allow us to adequately support each student throughout their studies and to ensure only the most suitable and appropriate course if recommended.

This course is delivered in the workplace by experienced industry current trainers and assessors.

Students are provided with engaging content, practical demonstrations and real life work experiences to ensure that once student successfully completes this course, they are job ready.

Students competency is determined using a range of assessment tools, including:

Written and verbal questions
Practical observations by qualified assessor
Projects
Supervisors report

Recognition of Prior Learning (RPL) and Credit Transfer (CT)

RPL is a process where a student may be granted credit or partial credit towards a qualification in recognition of skills and knowledge gained through work experience, life experience and/or formal training.

National Food Institute offers all students the opportunity to apply for Skills Recognition at enrolment in the course.


CT is a process where a student is given credit toward their course for units of competency they have already achieved.

Pathways into the qualification

Pathways for candidates considering this qualification is direct entry.

Pathways from the qualification

Successful completion of this course may enable students to enter TLI42116 Certificate IV in Driving operations.
Please note that National Food Institute does not offer the higher qualification and enquiries should be made with another training provider if the student wishes to pursue further education.

This course may take up to 12 months to complete.

The actual duration is dependent on rate of completion by each student.

AQF guidelines state a Certificate III qualification should be delivered over 1 to 2 years. Our delivery of this course may take up to 24 months to complete but can vary student to student due to their individual progress.

TLI31216 Certificate III in Driving Operations requires successful completion of 18 units of competency, 6 core units plus 1 licensing/industry elective unit and 11 elective units selected to meet the packaging rules.

Core Units of Competency

TLID1001 Shift Materials Safely using manual handling techniques
TLIF1001 Follow work health and safety procedures
TLIF2010 Apply fatigue management strategies
TLIL1001 Complete workplace orientation/induction procedures
TLIH2001 Interpret road maps and navigate pre-determined routes
TLIE1005 Carry out basic workplace calculations

Elective units:

TLIF0001 Apply chain of responsibility legislation, regulations and workplace procedures
TLIF2006 Apply accident-emergency procedures
TLIE3028 Complete a Work Diary in the Road Transport Industry
TLIE2002 Process workplace documentation
TLIE3004 Prepare workplace documents
TLIA3015 Complete receival/despatch documentation
TLIA1001 Secure Cargo
TLIB2008 Carry out inspection of trailers
TLIB0002 Carryout vehicle inspection
TLIB2001 Check and assess operational capabilities of equipment
TLID2004 Load and unload goods/cargo
TLIC1051 Operate commercial vehicle

Elective units are examples only and may change subject to client need and job outcome


At National Food Institute, we pride ourselves on providing relevant training to each student and where required, other elective units of competency may be selected by the student.

Our experienced trainer will discuss student needs with each student to determine what units are most relevant and an individual training plan will be developed.